Cenník 2019/ 2020
Price list 2019 /2020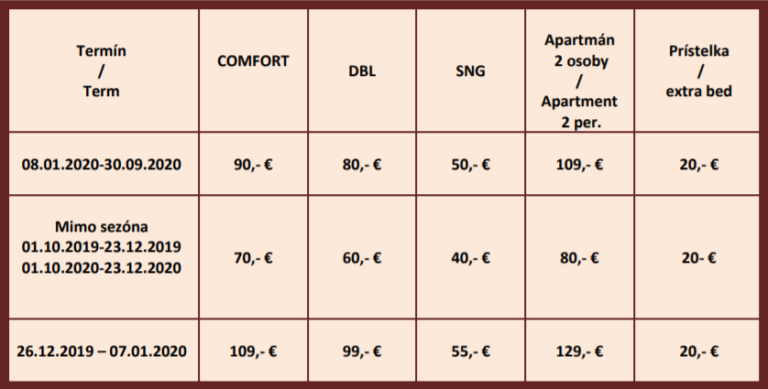 Ceny sú uvedené na 1 noc. Všetky ceny zahŕňajú: ubytovanie, raňajky, DPH, parkovanie, WI-FI. Jedno dieťa do 6 rokov pri dvoch dospelých osobách zdarma bez nároku na lôžko (v DBL) alebo na prístelke (v COMFORT, Apartmáne). 
Cena nezahŕňa daň za ubytovanie 1,- € / osoba nad 10r. / noc. 
Domáce zviera: zdarma. 
Večera: 8 € / osoba / deň (dvojchodové menu, hlavné jedlo výber z min. 4 jedál).
Masáž priamo na izbu: viac informácií na recepcii hotela. Zľavnené vstupy do aquaparkov, lanovky, skipassy. 
Viac info na recepcii hotela Ceny sú platné od 01.10.2019
Price includes: accommodation, breakfast, VAT, parking, WI-FI. One child up to 6 year with two adults – free of charge without accommodation (in DBL) or on extra bed (in COMFORT, Apartment). 
The price does not include local tax 1,- € / per person over 10y. / per night. 
The pets are free of charge. 
Dinner: 8 € / per person / per day (soup, main course – choice from min. of 4 meals).
Massage right in the room: more information on hotel´s reception Discount cards to aquaparks, cableways, skipasses. 
More infos on hotel´s reception. The prices are valid from 01.10.2019.